⭐Returns

>> 100% Money Back Guarantee.

🛫Shipping

>>Express Delivery from California/Nevada/Michigan to the Worldwide.

🦅

MADE IN USA

>>The product is manufactured in California(L.A.), Nevada(Henderson), Massachusetts(Boston) and Michigan(Detroit).
🔥To thank you all for your encouragement, we will donate 10% of every order in your name to those affected by the Tonga tsunami🔥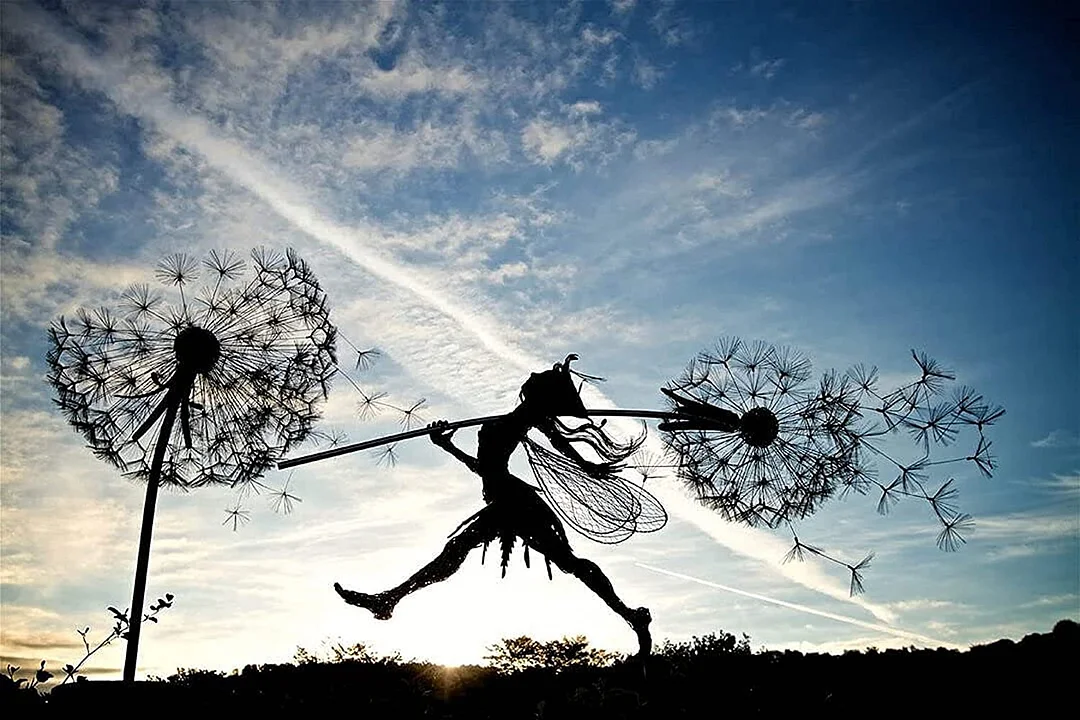 [High-quality garden decoration] They are made of flat-cut metal plates, and are treated with strong black rust prevention, which is durable and weatherproof. You can display them all year round to add fun to any garden.
[Designed for outdoor use] Hollow outline-weatherproof, waterproof and rust-proof design, summer, autumn, winter and spring will stand faithfully in your garden. With the help of this set of metal sculptures, you can make your garden full of life and add a whimsical charm to any outdoor space
[Fairy tale statue] Butterfly net is made of barbed wire. A butterfly hangs from her net (as if she just caught it)! This vibrant handwork and exquisite industrial artwork will improve any area of ​​the house or garden.
[Easy to install] Each metal garden statue is equipped with wooden stakes at the bottom to make the insertion more stable. First, connect them, then insert them into the garden, and finally, decorate your courtyard, lawn and flower beds with decorative garden stakes.
[Perfect Service] We guarantee 100% customer satisfaction. If there is any problem with the product or logistics, please contact us first, we will provide a replacement or refund, and solve your problem within 24 hours. Thank you for your support.

It's no secret that faeries are part of our lives in Middle-earth.

From angels and plant queens to fairies, our world is full of companions. We just need to open up our intuition and desire for the unusual and tap their energy.

The fairies work hard and take their role as caregivers of the earth very seriously. Pan, the god of the natural world, provides help in their efforts and is another ally of mankind in managing the earth. If you have a chance to meet Pan, I hope you have a chance to meet him, you will find that he is a smart and thoughtful person. The gentle and powerful Pan leads the fairy world in the process of constantly repairing what mankind has destroyed in the process of searching for oil, precious gems and metals, and through intensive agricultural practices.

If you happen to have a cottage garden, you will be loved by fairies. They like all plants, but especially like nasturtiums, dianthus, foxgloves, daisies, daffodils, tulips, grape hyacinths, dill and carrots and other umbrella-shaped plants, poppies, columbine flowers, bleeding hearts, and of course Ferns and vines.

A little fairy went out to collect wishes and found a big dandelion. It was too heavy to fly, so she set out to carry it home. The other fairies expressed their willingness to help, but she was too proud and insisted that she could handle it. She didn't know, all the way back, her wish was lost. When she got home, all her wishes were gone. Disappointed, she turned around to pick them up. When she returned to every wish, she discovered the story of who and what happened.

Three best friends set foot in this world, who knows what fun and excitement they have?

Feel free to insert these fairies into your garden will attract other fairies and mysterious creatures

Including the piles, their length is between 25 and 45 inches.
The dandelions and branches are made of metal, and the fairies are made of polyethylene
Two have a dandelion as the theme, so the fairy image is relatively small, while the other two have a fairy as the theme, so the fairy image is larger
Please refer to the figure below for the length of dandelion


Product description
Size: Dandelion size 11.2 inches, pole 26 inches, fairy 8 inches
Features:
1. [Exquisite gifts] These garden stakes used for decoration adopt a unique hollow design. The exquisite hollow pattern design is lively and lively. This is an ideal gift for garden lovers.
2. They are made of stainless steel wire, charming fairy tale sculptures. Each one is full of vitality and vitality, as if it might jump away casually and disappear at any time.
3. The fairy on the dandelion is not a three-dimensional pattern, but a flat figure. For the length of dandelion, please refer to the figure below. Inserting these fairies at will into your garden will attract other wonderland and mysterious creatures.

Package includes:
1* Fairy Dandelion Statue
Note:
1. Due to different monitors, the color of the product may be slightly different.
2. Due to manual measurement, there may be errors in the size, please refer to the actual product received.
Excellent service:
As a high-quality and responsible seller, we will be 100% responsible for the products. As long as you have product questions, you can contact me by email. I will reply to you within 24 hours, and a shop will give you a satisfactory answer.